Sightseeing Cruise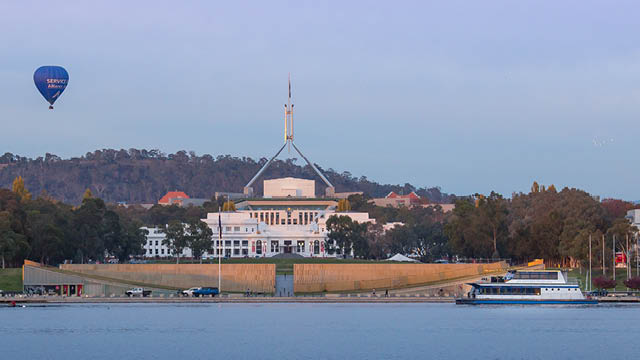 Duration: 2 Hours
Location: Yarralumla, ACT
One 90 minute tour departs from 9:00am on Saturday and Sunday only. Please arrive 15 minutes prior.
Adult $22 · Concession $15
Child (3-12 yrs) $10 · Child (under 3) free
Schedule:
Trevillian Quay, Giles Street Jetty, in front of the 'The Dock', Kingston Foreshore
Pick up 9:00am / Drop off 10.30am
Commonwealth Place Jetty, Queen Elizabeth Terrace, Parkes ACT (near Questacon)
Pick up 9:15am / Drop off 10:45am
Lotus Bay Jetty, Lotus Bay, Yarralumla at the Yacht Club
Pick up 9:30am / Drop off 11:00am
Tea and coffee are available on board, along with snacks and a fully licensed bar.
Add a Coffee and Muffin to your Sighseeing cruise booking for just $6. Add to your booking today or book on board during your cruise.
Each ticket includes a 10% discount voucher, redeemable at Snapper on the Lake fish and chippery.
---------------------------------------------

Add a 2 or 3 course lunch at the Yacht Club Restaurant after your Sightseeing cruise to your booking. Choose from our set menu below.
2 course $55 or 3 course $65. Add to your booking today (on the next screen) or book on board during your cruise.


ENTRÉE
Oysters (gf)
Half dozen fresh seasonal oysters from the NSW South Coast,
Tasmania or South Australia
served natural with lemon cheek and fennel mignonette sauce
Roasted Carrot and Pumpkin Salad (gf, df*)
Roasted summer baby carrots and pumpkin tossed with fresh
herbs and
served with creamy Persian fetta, toasted nuts and seeds
Salmon Gravlax (gf*)
Tasmanian smoked salmon gravlax, apple, cucumber and mustard
seed,
with avocado and sour cream mousse, baguette wafers
Queensland Prawns (gf) (supp. $3)
Gently poached prawn cutlets served with heirloom cherry
tomato salad,
baby watercress, traditional brandy cocktail sauce and fresh
lemon
Smoked Duck (gf, df)
Juniper berry cured free-range duck breast house-smoked with
cherry wood served with cherry relish and orange braised radicchio
MAIN
Freshly Battered Fish
Fresh Tasman sea fish fillet battered and served with a
generous portion of chips,
tossed salad with Bad Sally balsamic reduction and extra
virgin olive oil
Seafood Basket
Freshly battered fish, crumbed prawns and panko crumbed
calamari served with a generous
portion of chips, tossed salad with Bad Sally balsamic
reduction and extra virgin olive oil
Chicken Schnitzel
Freshly panko crumbed chicken breast, served with house made
coleslaw, chips, tossed salad leaves and gravy
Riverina Lamb (gf)
Slow roasted rosemary marinated spring lamb rump served with
kipfler potato,
roasted baby carrot and fresh salsa verde
Fillet Steak (gf) (supp. $4)
Grilled short horn tenderloin topped with melted brie,
confit rosemary potato,
marinated fire roasted capsicum and red wine sauce
Steak Frites (gf*)
Grilled Riverina sirloin steak served with crispy chips,
béarnaise sauce and tossed salad
Pan-fried Chicken Breast (gf)
Free range chicken breast marinated in thyme and lemon
served
with creamy wild mushroom and porcini risotto
Ravioli (v)
Tomato and mozzarella ravioli, fresh basil, cherry tomato
sauce and grated grana padano cheese
Zucchini and Tempeh (gf, v)
Lemon and oregano marinated grilled zucchini, pine nuts,
white bean mash, served with garlic aioli and caramelised tempeh croute
DESSERT
Crème Brulee (gf)
Tahitian vanilla bean flavoured brulee topped with citrus
flavoured sour lollies
Summer Berries and Yoghurt Verrine (gf)
Served with strawberry jelly and sour cream ice cream
Caramel Popcorn Parfait (gf*)
Served with brown butter sable, caramel gel, sea salt and
almond brittle
Gelato
Three scoops of assorted artisan gelato
Cheese Plate (gf*)
Selection of three artisan slices of cheese served with
crackers, seasonal housemade preserves, and fruits
Allergen Information
Please advise our staff of any dietary requirements,
intolerances or allergies. As we do handle both nut and
gluten products in our kitchen, as do some of our suppliers,
we are unable to guarantee that any of our dishes
are 100% gluten or nut free. We've developed a key to help
you choose menu items:
(gf ) No gluten containing ingredients, (gf*) Can be adapted
by removing gluten-containing ingredients
(v) Ovo-lacto vegetarian, (v*) Can be adapted into an
ovo-lacto vegetarian dish, (vg*) Can be adapted to vegan
(df*) Dish can be adapted to dairy free